Alumni News
Meet the Team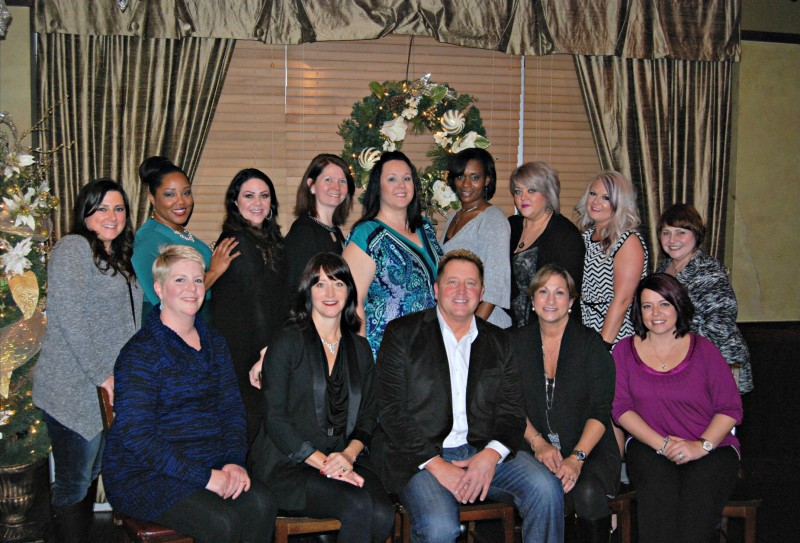 Capri Faculty & Staff are fiercely loyal to the College and Capri students.   Our team averages 14 years employment history.  
Row 1, left to right: Kim - Educator 23 years, Amy - President 29 yrs, Tom - VP  32 yrs, Tricia - VP - 33 years, Amanda -Basic Program Leader - 11 yrs.
Row 2, left to right: Brittany - Asst. Mgmt.  7  years, Antonia - Basic Program leader  5 years, Jen - Educator/ Guest Services 7 yrs, Vicki - Guest Services 9 yrs, Christina - Mgmt. 7 yrs, Tracy - Basic Program Leader 5 yrs, Allison - Program Manager 14 yrs, Katie - educator 3 yrs, Sandy - Educator 7 yrs.
Not pictured: Lisa - Manager 10 yrs, Nedina - Admission 22 yrs, Shanika - Educator 2 yr, Jessica - Guest Services 2 year.
Toys for Tots Donation 2015 a Great Success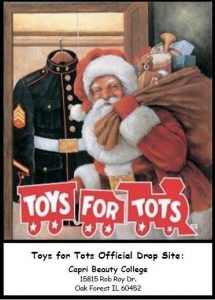 Capri Beauty College was an official donation site for Toys for Tots.  Toys for Tots delivers to families with children of all ages from toddlers on up, however, teen appropriate items are very limited.  2015  Capri collected gifts for  Teen Girls such as nail polish, make-up kits, hair accessories, curling irons, journals, etc.  Each campus collected enough its to fill the toy box to the top!
October is Domestic Violence Awareness Month
Together with the Crisis Center of South Suburbia, Capri Beauty College will host a variety of events on campus including Domestic Violence 101 training for faculty and students, bake sales and a clothing drive for Neat Repeats owned and operated by the Crisis Center for South Suburbia.
Congratulations Students! Fundraising Efforts are in!
Bake Sale. Generated $285.00 for the Crisis Center's Shelter.
Clothing Drive. Collected 12 Bags & 1 big box of new and gently used items, in clean condition for Neat Repeats Resale shops.
"Domestic violence, or intimate partner violence occurs when one person causes physical or psychological harm to a current or former intimate partner," as defined by the Illinois Department of Public Health. It is a pattern of behavior in which the abuser exerts power and control over the partner. Domestic violence (DV) is the leading cause of injury to women and children. It is a matter of concern to health care systems, to the legal community, to educational institutions, and to agencies that address issues of poverty and homelessness.
What' Your Constitution I.Q?

Constitution Day Sept. 17th
Visit Constitution Facts Here is where you'll see the entire text of the Constitution, the Bill of Rights, the Declaration of Independence and take a fun interactive quiz!
Best Beauty School Presentation
Representatives from the Daily Southtown presented Capri Beauty College with a plaque and banner in honor of be voted the 2015 Best Beauty School. Capri administration attributes the recognition to the talented students, dedicated faculty and loyal clients that have been a part of Capri's history for over 55 years.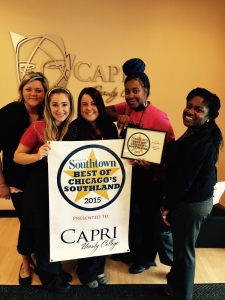 The Benefit of a Pedicure
Pedicures offer many benefits. Not only do Pedicures help keep feet looking pretty, they also keep nails trimmed, calluses controlled and skin moisturized. In addition, a foot massage helps to relieve tension and stimulate circulation. Treat yourself to a Capri pedicure available in our student salon and spa for the cheep and cheerful price of only $15.00!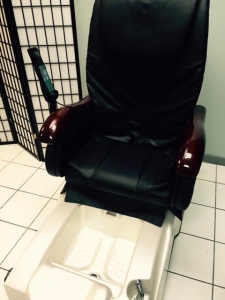 Pictured; Oak Forest pedicure throne.
Capri Voted Chicago Southland's Best Beauty School
$2,000.00 Komen Foundation Fundraising Goal
View October CALENDAR of Events Here.
Imagine life without breast cancer—where your mother, daughter, sister or friend doesn't have to worry if she will be the one-in-eight women diagnosed with the disease. Capri Beauty College, working together with students, faculty, staff and clients have set a goal to raise $2,000.00 for the Susan G. Komen Foundation. During the month of October (National Breast Cancer Awareness Month) Capri will host a series of fundraising activities including raffle items, bake sales and voluntary donations. Pre-event activities began in July with Awareness T-Shirts and $1 Jean Days. Event dollar amounts will be tracked weekly and sent to the Foundation in November 2014.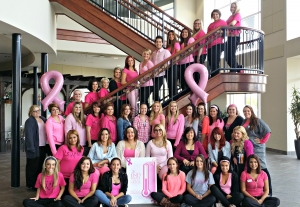 Dollars Raised To-Date
Total Funds Raised: $2,185.00
Raffle Contest Rules
Raffle tickets available for purchase Oct. 1, 2014 - October 30, 2014. Sale of raffle tickets ends October 30th at 5:00pm CST. Purchase price $3 per raffle ticket or two raffle tickets for $5. Customer will receive one perforated raffle ticket for each purchase. Customer will write full name and telephone number on one side (side a) to drop in a Raffle Box, and will retain second side (side b) for proof of purchase. Winning ticket will be drawn on October 31, 2014 at the Oak Forest Campus. Winning Customer need not be present to claim prize. Winner will be telephoned, announced at capri.edu, Facebook and twitter. Winner has until November 15, 2014 to claim prize. Prize may be claimed at the Oak Forest Campus from a member of Management. Original side b ticket may be used to claim prize or if name and phone is indicated on side a, a valid State ID is required. 100% of funds raised will be donated to the Susan G. Komen Foundation. View our event funds raised at www.info-komen.org.
Unclaimed Prize
In the event that the winning customer does not claim prize by November 15th deadline, a second raffle ticket will be drawn. Second winning customer will have 15 calendar days from date of announcement to claim prize. Capri will continue with this process until prize is claimed.
Questions: please email amy@capri.edu
Capri Makes a Difference in the Cosmetology Industry
Tricia Seil, Vice President and Campus Director for Capri's Oak Forest location, is featured in BeautyLink Magazine for her contributions to the State Authorization and Cosmetology Licensing Board Regulations. Click here to read the full story.
Trends in Education
In a recession, do 4-year college degrees make sense? Rising tuition and the weakening economy are making high school graduates abandon their dreams of a traditional college degree to pursue a path through technical schools to find a job with better job security. Click here to see a video about students who are forgoing degrees for more secure jobs.