$2,000.00 Komen Foundation Fundraising Goal
View October CALENDAR of Events Here.
Imagine life without breast cancer—where your mother, daughter, sister or friend doesn't have to worry if she will be the one-in-eight women diagnosed with the disease. Capri Beauty College, working together with students, faculty, staff and clients have set a goal to raise $2,000.00 for the Susan G. Komen Foundation. During the month of October (National Breast Cancer Awareness Month) Capri will host a series of fundraising activities including raffle items, bake sales and voluntary donations. Pre-event activities began in July with Awareness T-Shirts and $1 Jean Days. Event dollar amounts will be tracked weekly and sent to the Foundation in November 2014.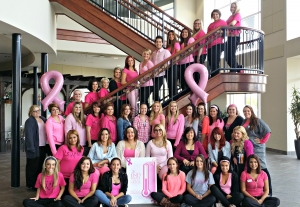 Dollars Raised To-Date
Total Funds Raised: $2,185.00
Raffle Contest Rules
Raffle tickets available for purchase Oct. 1, 2014 - October 30, 2014. Sale of raffle tickets ends October 30th at 5:00pm CST. Purchase price $3 per raffle ticket or two raffle tickets for $5. Customer will receive one perforated raffle ticket for each purchase. Customer will write full name and telephone number on one side (side a) to drop in a Raffle Box, and will retain second side (side b) for proof of purchase. Winning ticket will be drawn on October 31, 2014 at the Oak Forest Campus. Winning Customer need not be present to claim prize. Winner will be telephoned, announced at capri.edu, Facebook and twitter. Winner has until November 15, 2014 to claim prize. Prize may be claimed at the Oak Forest Campus from a member of Management. Original side b ticket may be used to claim prize or if name and phone is indicated on side a, a valid State ID is required. 100% of funds raised will be donated to the Susan G. Komen Foundation. View our event funds raised at www.info-komen.org.
Unclaimed Prize
In the event that the winning customer does not claim prize by November 15th deadline, a second raffle ticket will be drawn. Second winning customer will have 15 calendar days from date of announcement to claim prize. Capri will continue with this process until prize is claimed.
Questions: please email: amy@capri.edu